Stream It All: 6 Tips for Your MidcoTV
Stream It All: 6 Tips for Your MidcoTV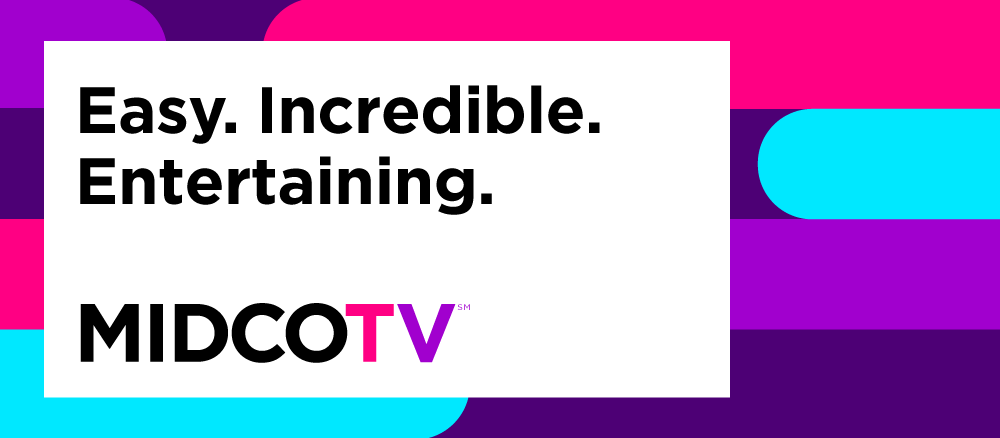 With MidcoTV, your TV watching is getting a major upgrade – with personalized recommendations for new shows, cloud DVR recording, access to thousands of apps on Google Play and much, much more.
Want to get the most out of your all-streaming experience? Here are some tips for your MidcoTV.1
Link Streaming Apps and Search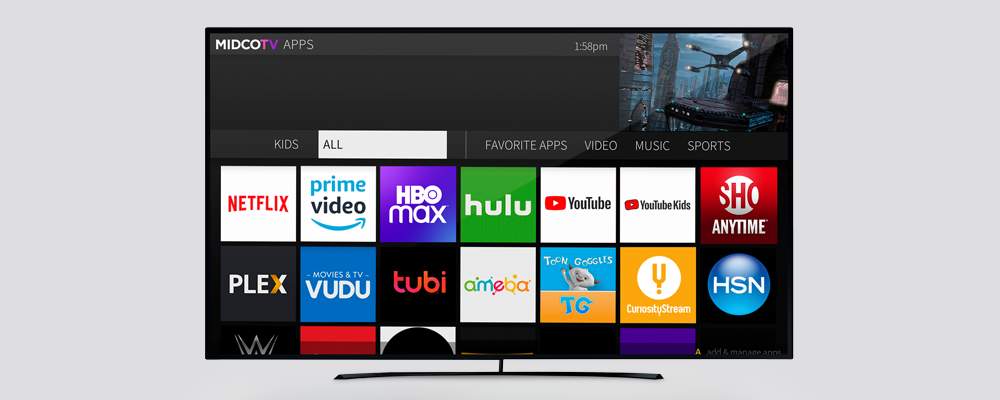 When you connect select apps like Netflix® and Prime Video, you can use MidcoTV's integrated search to look for shows and movies across those apps, live TV, your recordings and ON Demand programming all at once – no switching inputs required.2 You can search for a specific channel, TV show, actor, keyword or genre.
Try Restart and Catch Up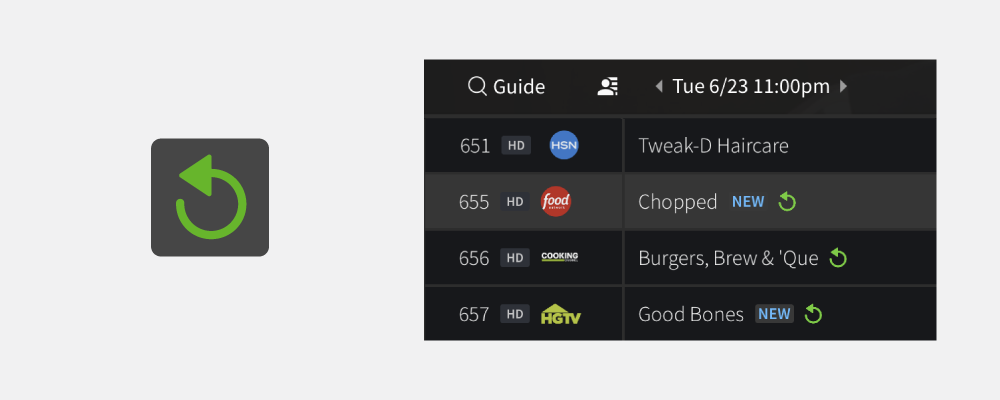 See the green arrow icon on a channel or show in your on-screen guide? That means you can go back up to three days in the past to watch shows that aired previously on that channel.3
Miss the beginning of a show that's in progress? Highlight the show in your guide, and if it shows that icon, press and hold the OK button to watch it from the beginning. Forget to record a show you wanted to watch yesterday? Page left in the guide and look for the Catch Up icon to watch it after the fact.
Connect Your Google Account
When you sign in to your Google account on your MidcoTV, you get access to more than 3,000 apps on Google Play – from Spotify to Disney+ to karaoke and games. Plus, you'll be able to get new streaming services as soon as they are available.
Don't have a Google account? It's free to set one up.
Download the MidcoTV App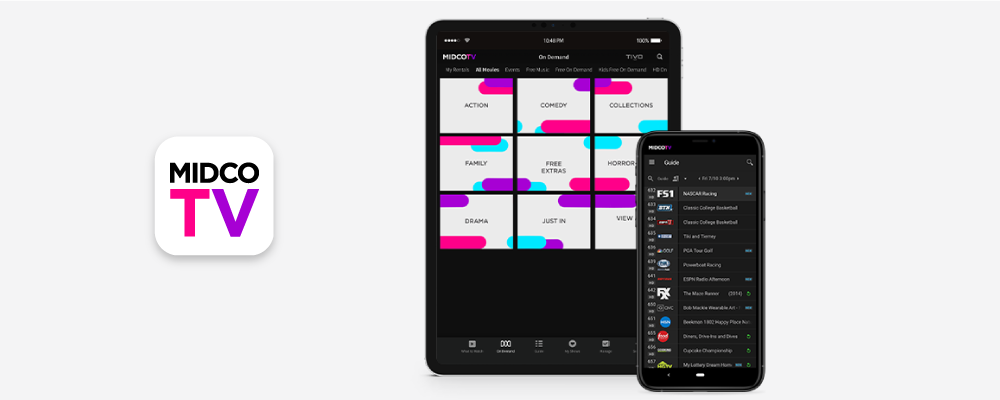 Have multiple people in your home wanting to watch different things? With the MidcoTV app, you can watch live TV, ON Demand or your recordings on your phone, tablet or other mobile device in any room in your house. That way, everyone can enjoy what they want to watch.4
Download it today on your mobile device on Google Play or the App Store®.5
Put Your Voice in Control with Google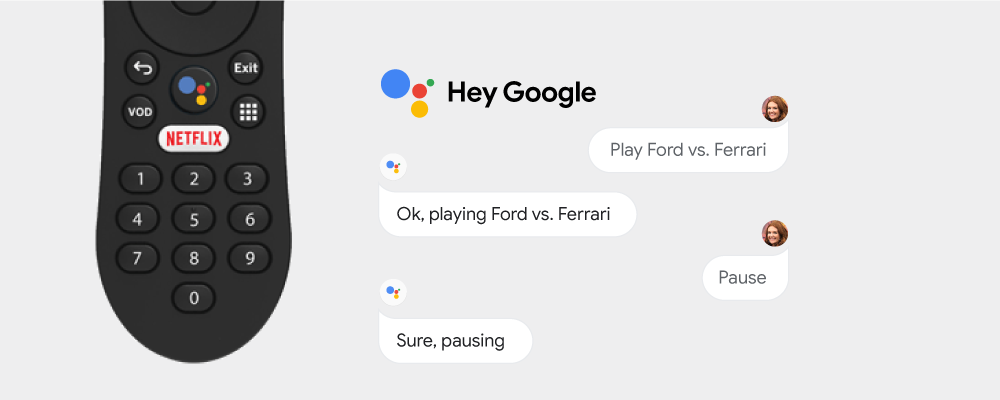 Choosing MidcoTV with Google gives you a smarter TV experience. Tell Google to pause, play, stop or rewind. Ask questions and see answers on your screen. Just press the Google Assistant button on your remote to get started. Try saying:
"Find action movies."
"Show me comedies.
"Play Ford vs. Ferrari."
Note: You must be signed in to your Google account in order to use Google Assistant.5
Enjoy Entertainment on Your Time
Turn to Midco ON Demand for shows and movies when you want them – with up to 12,000 new titles added every month. Many of the available ON Demand titles are free, while others can be rented for a small fee.6
Want to watch on the go? Use your credentials to watch select network apps available in your MidcoTV package – anywhere there's an internet connection!6
Let's start watching.
Order and self-install MidcoTV. Then, get ready for a better TV experience.
MidcoTV Support
Want more tips for MidcoTV? We have step-by-step instructions and how-to information in our online support.
1 Services are not available in all areas, and some restrictions apply. Visit Shop to check serviceability, or contact us. MidcoTV requires Midco Internet service and a DOCSIS 3.1 modem or Midco Fiber Internet service.
2 Third-party monthly subscription is required for some apps. Network apps are subject to change. You must be signed in to your Google account in order to download apps from the app store or use voice commands. Amazon Prime and all related logos and products are trademarks of Amazon.com, Inc. or its affiliates.
3 Restart and Catch Up feature is not available on all shows and channels.
4 Streaming to devices is available on iPad, iPhone and iPod Touch devices running iOS 9.0 or later and select Android devices running 4.3 or higher. Streaming via MidcoTV is not available outside your home internet connection.
5 Google and Google Play are trademarks of Google LLC. Google Assistant is not available in certain languages and countries. Apple and the Apple logo are trademarks of Apple Inc., registered in the U.S. and other countries. App Store is a service mark of Apple Inc.
6 ON Demand programming and TV Everywhere networks vary by TV package and market. Not all networks are available in all areas, and networks and content are subject to change. This material includes references to products, services and/or equipment not manufactured by Midco. The respective companies retain trademark and registered trademark ownership for those referenced items.