Making Connections Across the Midwest
Making Connections Across the Midwest

Making connections across the Midwest.
By Rick Kroll
Vertical Asset Site Operations Manager
In the corner of your phone or computer, there's that little symbol – three little waves indicating you're connected. Most of us don't even notice they're there, so it can be hard to fathom that high-speed internet is still a luxury in portions of rural America.

That's where my team and I come in. Day-in and day-out, we're working hard to bring fast, reliable to people who are unserved or underserved across the Midwest.

As the Vertical Asset Site Operations Manager, I work hand-in-hand with teams across our organization – as well as with land or tower owners – to build fixed wireless towers to bring internet services to communities at the edges of our fiber network.
Finding the perfect spot.
Once Midco identifies an area we could service, that's when we get to work. Our engineers put a pin on a map that would be an ideal location to install a new fixed wireless internet tower – or a piece of equipment. Then we start surveying the area.
It can be a pretty involved process, as there are many regulatory and environmental factors we must meet before starting construction. And, as an organization, we want to do our due diligence to ensure we're being good stewards of the land.
I've been working in the fixed wireless business since 2003 – and with Midco since 2018. And in all these years going door-to-door talking with people, I've consistently heard how protecting and caring for their land is at the top of their minds. We respect that and do everything in our power to have as limit our impact on the property.
"The land is their livelihood, and they are entrusting us with it. We take that responsibility seriously." – Rick Kroll, Vertical Asset Site Operations Manager
It's a partnership.
After we've thoroughly researched a location, I get to put on my detective hat. There is a bit of legwork that goes into tracking down not only who owns the land, but also the best way to get in touch with them. Sometimes it's a business card at their office – or simply a knock on their door to introduce myself – that gets the conversation going.
That's really one of the best parts of the job – being able to connect with community members and tell them what we're all about at Midco. Not all companies really have the landowner's best interest in mind, so demonstrating our commitment to the area – showing them the positive impact we've had in other communities – is a very rewarding way to spend the day.
From there, we really partner with each individual to find the best place to maximize our internet signal while minimizing any possible interference on their daily lives. Whether that means putting the tower in the corner of their property or making sure we are always closing gates – it's important they know we're responsible partners. We provide all liability insurance for our crews on site and for the property we work on. That's a big weight off the shoulders for these owners.
Meet our team.
Amanda Anderson – Site Acquisition Coordinator
Amanda brings five years of experience as a Legal Assistant to Midco, upon joining in 2021. She is responsible for securing leases with existing vertical asset owners for the purposes of co-locating our equipment on their structures. Amanda has a passion for real estate transactions, which comes in handy when Midco secures land to build a new tower.
Getting Connected
New Tower or Not: During our evaluation process, we identify whether we need to build our own tower, or if there is an existing structure we can use. To deliver the best signal to customers, it's best to place our equipment on a structure that's around 160-180 feet tall. This could be something like a grain elevator or a water tower if we are working with a municipality.
Tower Options: If we build a tower, we have four different options. One option only needs about 4 square feet of land, so we really can cater to the space available.
Surveying: In the process of selecting the right equipment for the area, we make a number of visits to survey the land and complete all the necessary regulatory and environmental checks.
Ongoing Maintenance: Once equipment is installed, there is very little maintenance needed. Even though we place electrical equipment nearly 200 feet in the air, it can withstand a lot. Apart from any issues, we typically return on an annual or bi-annual basis to check on it – making it as convenient as possible for our landowner partners.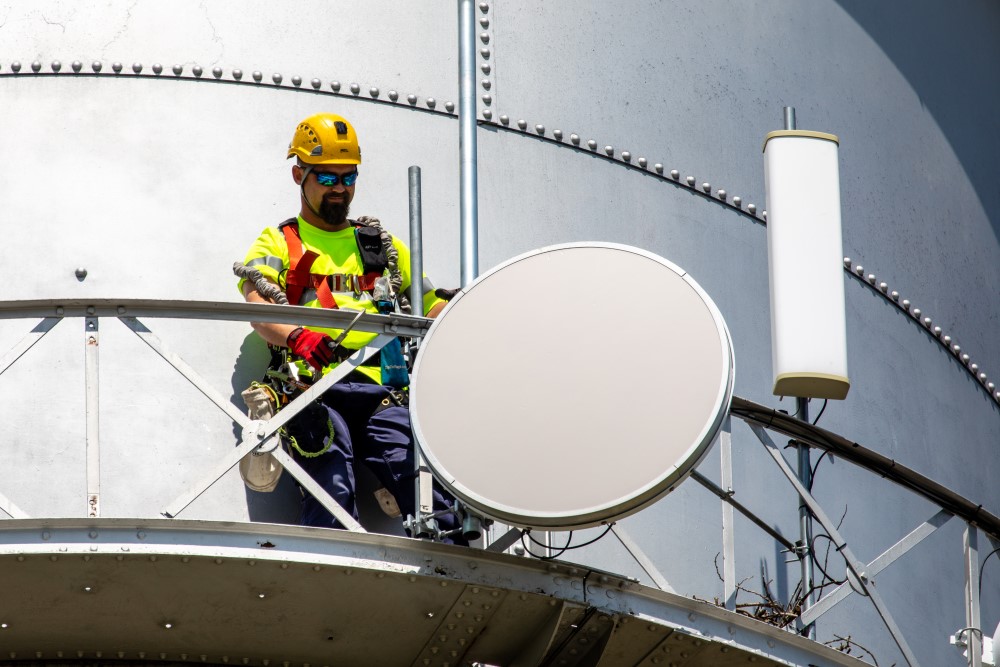 Closing the deal.
Throughout the acquisition process, we pursue multiple avenues to find the best fit for the best connection. You never know what could come up during a soil and cultural survey. We've had to move on from places because they found a certain species of endangered grasshopper – or it was a whooping crane nesting area.
It's important for landowners to understand that we're investigating multiple properties throughout an area, and it's a bit of a race of which property we go with. It depends on who gets back to us the fastest with completed paperwork and a signed lease.
No matter where we end up installing our equipment, delivering vital internet connections to rural homes, businesses and small towns is a huge win for everyone. We love it when people are able to live where they want without sacrificing access to high-quality internet. And it's so satisfying to be a part of that solution to better connect communities.
Connecting America
Learn more about vertical assets and how they are connecting rural America to fast, reliable internet.