Stream Live Sports All in One Place with MidcoTV
}
Stream Live Sports All in One Place with MidcoTV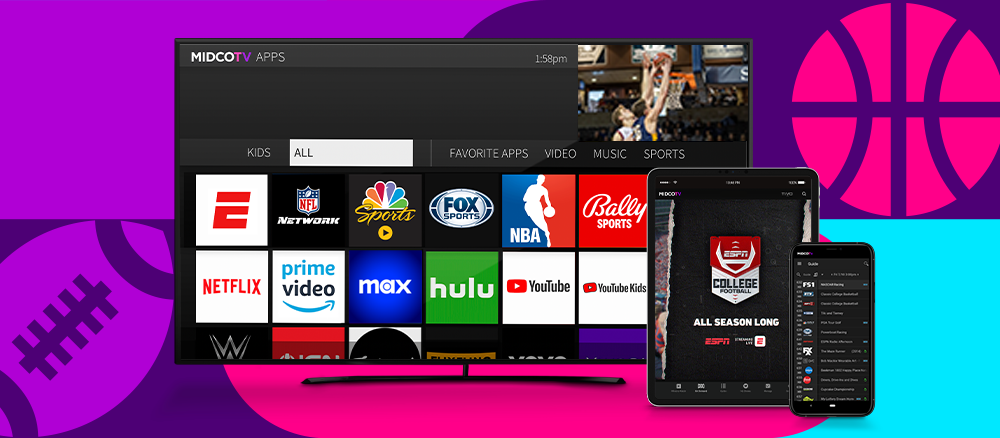 Last updated August 2023
If switching inputs from streaming apps to live TV viewing is a feeling you know all too well, then you might be a sports fan.
Catching the replays, the analysis and the live game coverage is important to you. We get it. It's time to create your live sports hub – and have it on all your devices while maintaining your game time momentum.1
Take your couch time up a notch with MidcoTV, an over-the-top viewing experience that learns what teams, games and shows you want to watch and when. Let's just say you've met your biggest sports-watching match.


You make the apps. We'll bring the apps.
Connect all your favorite streaming and music apps to your MidcoTV, and never worry about switching inputs on your TV to access an app.2 With more than 3,000 apps on Google Play, get all your sports viewing faves in one place, including:3
ESPN®
UFC®
fuboTV®
NFL®
FOX Sports®
Bally Sports®
NBC Sports®
NBA®
NCAA March Madness Live®
And, when in doubt, don't forget that you can just watch live TV, too.


Search for sports across apps and TV.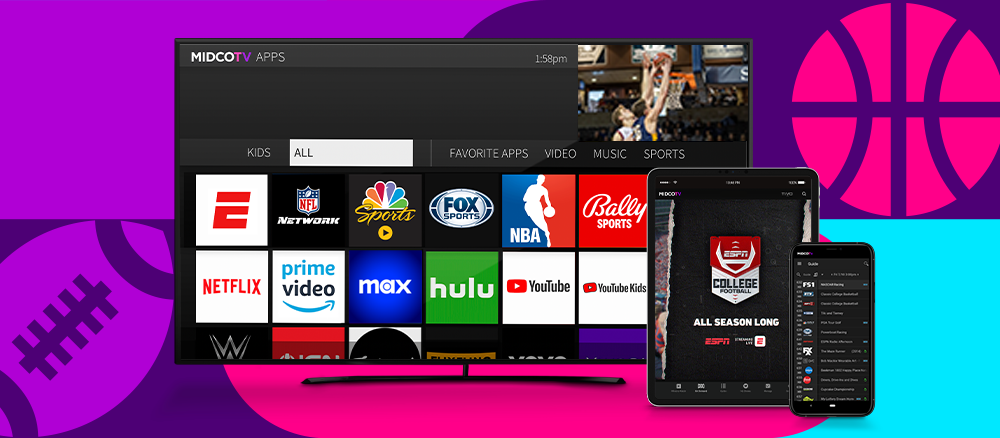 MidcoTV's integrated search queries, apps, live TV, recordings and ON Demand programming all at once – no switching inputs required. That way, you can find "Gonzaga Bulldogs" wherever they're playing.2
Curious about what's available? View channel lineups
Don't miss a clock-stopping minute.

If you share a TV with non-sports fans, never fear! The MidcoTV app is available on your smartphone or tablet.1
When you're on your home Wi-Fi network, you can:
Stream live TV on any channel in your TV package.
View recordings from your cloud DVR.
Stream network apps available with TV Everywhere.
You can stream on up to three devices (including your MidcoTV equipment) at the same time.
Not at home? Log in with TV Everywhere to catch a game wherever you are.4


Trust Google to find games.

Memorizing channel numbers is a thing of the past. When there's a lot on, let Google find it for you using remote voice commands. Then, Ask Google to pause, play, stop or rewind – all with a touch of a button.2
Search for sports by saying:
Hey Google, find the Minnesota Vikings.
Hey Google, play NFL football.
Hey Google, find college basketball.


Fridge run made you miss it? Watch it again.

See the green arrow icon on a channel or show in your on-screen guide? That means you can go back up to three days  to watch shows that aired previously on the channel.
Miss the beginning of a show that's in progress? Highlight the show in your guide, and if it shows that icon, press and hold the OK button to watch it from the beginning. Need to take a break? Pause the show and start from where you left off. Forget to record a show you wanted to watch yesterday? Page left in the guide and look for the Catch Up icon to watch it after the fact.5


Mix and match your sports lineup.
Get all the channels you need to watch all the games. With four flexible package options and plenty of add-ons including the MidcoTV Sports Pack, MidcoTV has an option for every kind of sports fan. Plus, if you're only looking for a specific sports season, you can upgrade during that time and then return to a different package when you're done. It's contract-free, so consider yourself a free agent.
Let's start watching.
Order and self-install MidcoTV. Then, get ready for a better TV experience.
Already a Midco customer? Contact us to add MidcoTV.
MidcoTV Support
Want more tips for MidcoTV? We have step-by-step instructions and how-to information in our online support.
This material includes references to products, services and/or equipment not manufactured by Midco. The respective companies retain trademark and registered trademark ownership for those referenced items. MidcoTV services are not available in all areas, and some restrictions apply. Visit Shop to check serviceability, or contact us. MidcoTV requires Midco Internet service and a DOCSIS 3.1 modem or Midco Fiber Internet service.
1 Streaming to devices is available on iPad, iPhone and iPod Touch devices running iOS 9.0 or later and select Android devices running 4.3 or higher. Streaming via MidcoTV is not available outside your home internet connection.
2 Third-party monthly subscription is required for some apps. Network apps are subject to change. You must be signed in to your Google account in order to download apps from the app store or use voice commands. Amazon Prime and all related logos and products are trademarks of Amazon.com, Inc. or its affiliates. All other trademarks, logos, products and brand names are property of their respective owners.
3 Google and Google Play are trademarks of Google LLC. Google Assistant is not available in certain languages and countries. Apple and the Apple logo are trademarks of Apple Inc., registered in the U.S. and other countries. App Store is a service mark of Apple Inc.
4 TV Everywhere networks vary by TV package and market. Not all networks are available in all areas, and networks and content are subject to change.
5 Restart and Catch Up feature is not available on all shows and channels.