Rewarding careers for motivated sellers.
Charismatic. Outgoing. Compassionate. Dedicated. People person. Relationship builder. Self-motivated. Results oriented. If any of these describe you, then you've met your match with Midco.
We're looking for friendly team members who want to build relationships with our residential or business customers. Who crave a flexible schedule and ever-changing workday. Who love networking. And who are excited about Midco's amazingly entertaining services.
Help folks find the best internet, TV and phone options to fit their budget and lifestyle. Apply to join our sales team! Positions are available in South Dakota, North Dakota, Kansas, Wisconsin and Minnesota.
Featured positions.
Find sales opportunities near you. Midco provides the training, technology and tools for you to succeed. Plus, grow your career in a culture that supports learning and advancement opportunities.
Benefits galore! Medical. Dental. Free services.
Midco offers plenty of perks, like generous benefit packages and great incentives to fit your needs.
Competitive base wage plus monthly commission
Free and discounted internet and TV services
Medical, dental and vision insurance
Profit sharing and 401(k) retirement plans
Work from home (depending on the position)
Paid time off (starting on day one)
Advancement opportunities
Tuition reimbursement
Wellness program
So much more!
Why pick Midco for your career?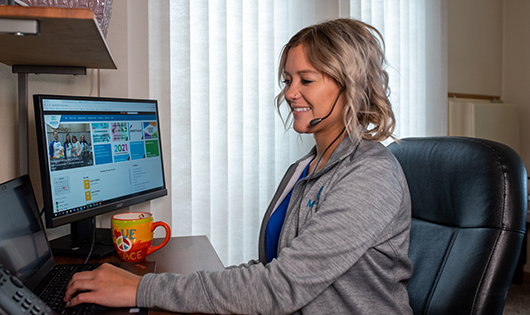 Whether you're looking for entry-, mid- or upper-level sales positions, your next career is here. We offer many development and advancements opportunities. With a little Midco experience, you can move up in your career to lead your own team or branch out into other fields1, such as:
Account management
Customer service
Human resources
Marketing
Events and public relations
Quality assurance
Technical support

Career options in sales.
Grow in your career. We empower every employee to build the career of your dreams. Our team encourages you to explore certifications and training opportunities for career advancement.
Sell door-to-door. Build rapport. Network with local builders, insurance agencies, realtors and more. Help Midco meet revenue objectives through the sales of residential products, services and solutions.
Create lasting relationships. Retain customer loyalty. Help people stay connected. You are the face of Midco, establishing the value Midco products and services bring to a customer's everyday life. A typical day may include inbound calls, proactive retention efforts, providing recommendations and more.
Friendly, chipper customer service. Walk-in support. Knowledge of Midco products and services. You'll drive sales when new and existing customers walk into our Customer Experience Centers. Or follow up after they leave. Retail sales is all about relationship building and service promotion.
You're leading a retail sales team at our Customer Experience Center. Engaged leadership is a must. Your employees will look to you to train them to achieve our revenue objectives, while also balancing a positive work environment for staff and a great experience for customers.
1 This page shows typical career paths employees follow in this department at Midco. Exceptions can be made, depending on workforce needs and other factors.