The Next Generation of TV Streaming
This isn't your normal TV. MidcoTV is a personalized, all-streaming TV. You get incredible entertainment, with your local channels and sports, apps, movies, recording and so much more – all in one place.1
Can I get Midco?
Start your Midco journey! Just type and select your address below, so we can check it with thousands of serviceable spots in our database.
If you don't see your address or are a current customer, contact us.
Easy. Incredible. Entertaining.
Live TV Streaming
Watch hundreds of channels in your TV package on your TV or on your mobile device. From sports to kids' shows to premium networks, just sit back and enjoy.
Google Play Access
Download your favorite apps through Google Play™. Just connect your Google account and access your streaming apps right from your home screen.2
MidcoTV App
Download our streaming app. Watch live TV and recordings on your mobile device while at home. Schedule and manage recordings and enjoy ON Demand content.
Easy Recording
Record single shows, whole series or every game for a sports team. With cloud DVR storage, stream them on your time on your TV or smart device.
Voice Control
Use Google Assistant™ to get more from your TV. Search and find all of your shows, no matter where they live. Change the channel or open an app.2
Restart & Catch Up
Miss the start of an episode, or forget something was on? Use the Restart and Catch Up feature to watch it after the fact on select channels.3
MidcoTV Packages
Please enter your address and proceed to shop to view the most accurate Midco service offerings.
MidcoTV 4
Up to 182 channels, including NFL Network, SCIENCE and Nick Junior3
Up to 38,000 ON Demand titles
TV Everywhere streaming
MidcoTV 3
Up to 135 channels, including ESPN, HGTV, FOX News and Nickelodeon3
Up to 26,000 ON Demand titles
TV Everywhere streaming
Extra and Premium Options
Get the TV your household wants most with our extra packages and premium channels – from endless movies and epic series to action-packed sports and Spanish-language channels.
Looking for live sports? We recommend…
If you're into watching all the live sports you can handle, MidcoTV has you covered. Start with the MidcoTV 3 package first, then add the MidcoTV Sports Pack or MidcoTV Sports & Variety Pro Pack from there.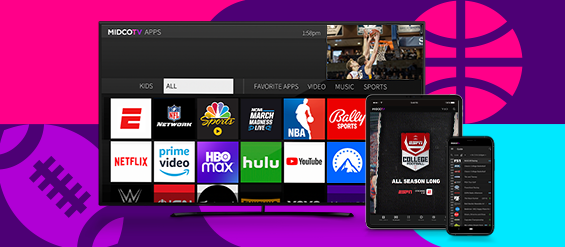 Stream Sports All in One Place
Want to create a customized sports TV hub? Here are tips for taking your couch time up a notch with MidcoTV features like Catch Up, Restart, Voice Control and more.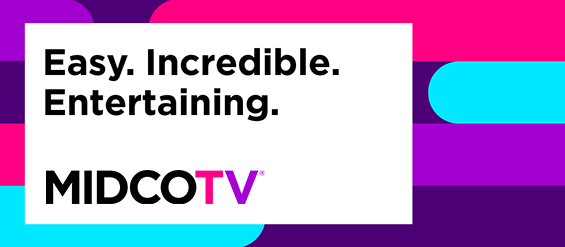 6 Tips for Your MidcoTV
From linking streaming apps to finding your favorite shows with integrated search to watching on the MidcoTV app, see how to get the most out of your experience.
All Your Shows. All in One Place.
MidcoTV makes it easy to have all your entertainment at your fingertips. No more switching inputs. Find all your shows, movies, recordings, live sports and more right from your home screen.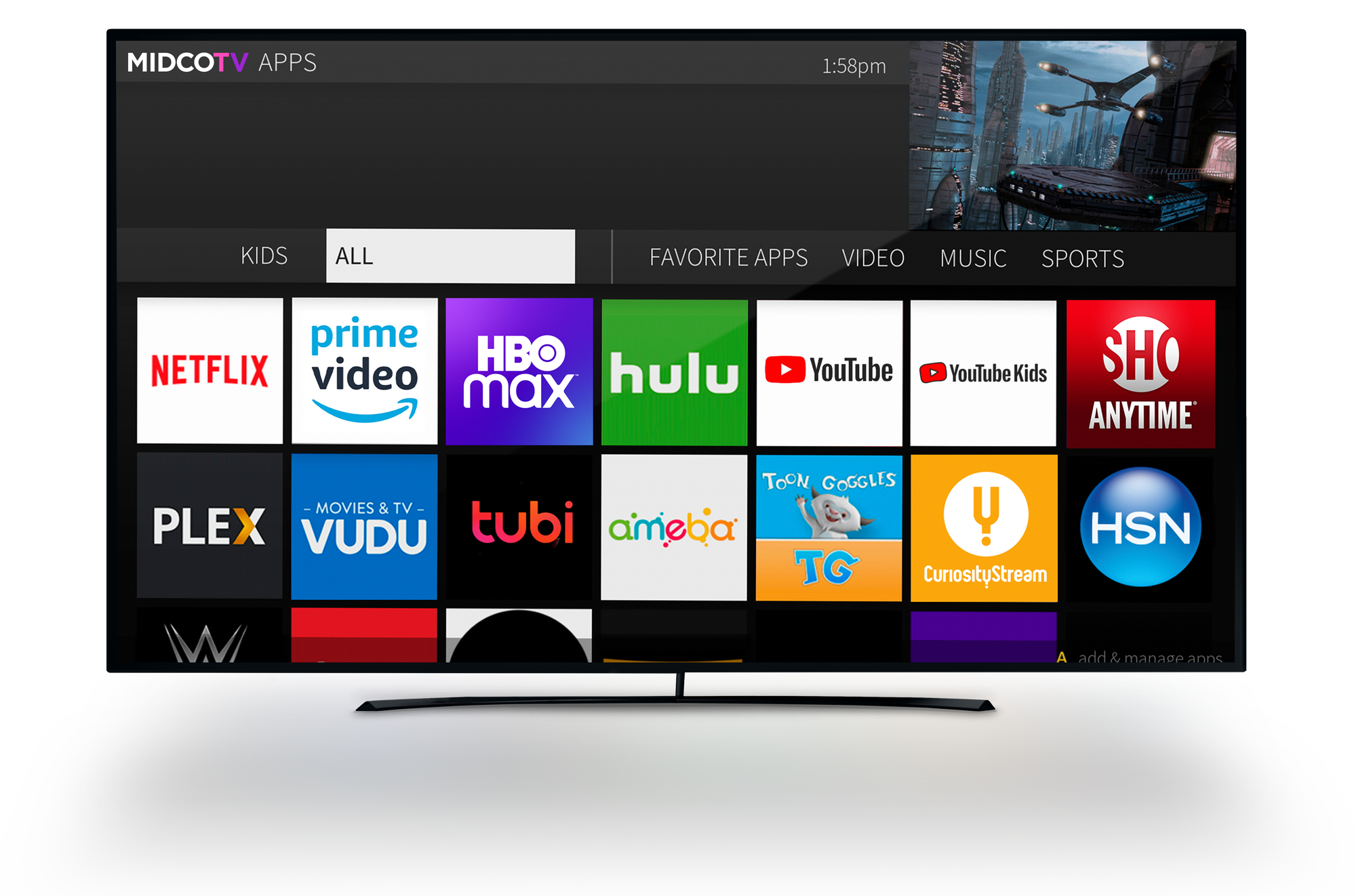 Control it with your voice.
Do more on your TV using your voice. Talk to Google to easily search for movies and shows across live TV, ON Demand and streaming apps. Or get answers on screen — all by asking. Press the Google Assistant button on your remote to get started.
Set up and stream.
We make it easy to get streaming – with the option to self-install in some cases, so you don't need to wait for a tech to start watching!4
Order MidcoTV.
Get the equipment in the mail.
Plug it in and follow the on-screen instructions.
Depending on the Midco connections at your home and other factors, a professional installation may be required.
Services are not available in all areas, and some restrictions apply.
1 MidcoTV requires Midco Internet service and a DOCSIS 3.1 modem or Midco Fiber Internet service. Streaming to devices is available on iPad, iPhone and iPod Touch devices running iOS 12 or later and select Android devices running 6 or higher. Programming cannot be streamed outside your home internet connection.
2 Google, Google Play, YouTube and Android TV are trademarks of Google LLC. Third-party monthly subscription is required for some apps.
3 The number of channels, available channels and available TV Everywhere networks may vary by area and are subject to change. They also vary based on your MidcoTV package subscription. Please refer to your local channel lineup for more details. Restart and Catch Up feature is not available on all shows and channels.
4 Self-installation is not available in all areas, and some restrictions apply. Professional installation ($100) may be required in some cases. Contact us with questions.