MidcoTV Remote
Your MidcoTV remote lets you control your MidcoTV experience. Want to use your voice? Just press the Google Assistant button on your remote to get started.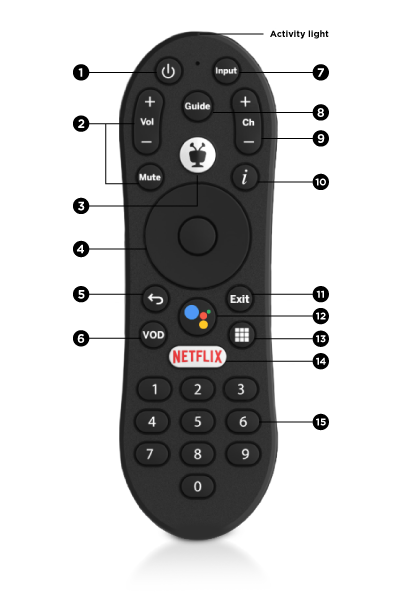 Power turns your MidcoTV device on and off. After you program it to your TV, it will turn that on and off, too.
Volume and Mute control your TV audio (if programmed).
The TiVo button takes you to your Home screen.
Your Navigation Ring controls playback and helps you navigate your menus.

The inner circle acts as an OK button. Use it to choose menu items and pause and play shows.
While watching a show, press the left button to rewind and the right button to fast forward.
While fast forwarding or rewinding, press and hold the button again to skip ahead or back 15 minutes.
Press and hold the right button to skip ahead 30 seconds.
While watching live TV, press Up for the mini interactive guide or Down to see the Home screen menu.

Press Back to go back to the previous screen or to go back to full screen video from the Home screen.
VOD takes you to your ON Demand library.
Use the Input button to select the input for your TV (if programmed).
The Guide button takes you to the on-screen interactive guide.
Use the Channel Up and Down buttons to change the channel or move quickly through your lists or your interactive guide.
The Info button shows the info banner while watching a show. Press Info again to make the info card disappear.

You can also use this to turn closed captions on or off. Press the Info button, and then select the Closed Caption icon.

Go back to the previous channel while watching TV by pressing the Exit button. This button also closes certain apps.
Issue voice commands with the Google Assistant button.
The Grid button jumps you to the Apps & Games screen.
Automatically launch Netflix with the Netflix button. (Separate subscription required.)
Use the number buttons to type in a specific channel number. While on the Home screen, use the numbers to jump directly to the options on the Navigation Bar.

1 – Watch TV
2 – My Shows
3 – What to Watch
4 – Guide
5 – Apps & Games
6 – ON Demand
7 – Search
9 – Notifications
Follow these steps to pair your TV or sound system to your MidcoTV remote.
Press the TiVo button to go to the Home screen.
Select Menu.
Go to Settings, and then select Remote Settings.
To pair your remote with your TV or sound system, choose Remote Control Programming.
Follow the instructions on your TV.
Press the TiVo button to go to the Home screen.
Select Menu and scroll down to Accessibility.
Choose Closed Captioning to turn closed captioning on or off for all shows.
Google Assistant
Use Google Assistant for a smarter TV experience. You can search for programs, change channels, launch apps and more using your voice.
Just press the Google Assistant button and wait for the Google search bar to appear on your screen. Then, issue a voice command. Note: You must be signed into your Google account to use voice commands.

Here are some ways to search with Google Assistant.
Search for shows by saying show titles, like "Wonder Woman" or "Titan Games."
Do a general search for a movie or show genre, such as "What are some good romance movies?"
Start a movie or show: "Play Doctor Sleep."
Pause a movie by saying "Pause."
Launch downloaded streaming apps by saying the name of the app: "Netflix" or "YouTube."
Search for sports by saying team names like "Minnesota Twins" or "Denver Broncos."
Find when your team is playing next by asking: "When do the Knicks play next?"
Access your recorded shows by saying "My Recordings."
Change the channel by saying the channel name, such as "ESPN."
Search for weather by asking "What's the weather today?"
To control your TV or audio equipment, make sure there is a clear line of sight to your equipment and point the remote at your equipment when using it.
The activity light on the remote should blink with each press of a button. If not, replace the batteries.
If you want to repair your remote with your MidcoTV equipment, follow these steps. Note: Make sure your remote is close to your MidcoTV equipment with a clear line of site.
Press the Bluetooth button on the right side of your MidcoTV equipment. A pairing screen will appear on your TV.
Press any button on the remote control to start the pairing process. Once it discovers the remote, pairing will take a few seconds to complete.
If that doesn't work, you may need to reset your remote.
Press the TiVo button and the Power button at the same time until the remote's activity light appears solid red.
Press the Down Volume button three times, and then press the TiVo The activity light on your remote will blink red three times to indicate the factory reset is complete.
Press the Bluetooth button on the right side of your MidcoTV equipment. A pairing screen will appear on your TV.
Press any button to start the pairing process.
If you continue to have troubles, contact us.
If your remote activity light continually blinks five times in a row with a pause in between, your batteries are low and need to be replaced soon. If you want to check your battery level, follow these steps.
From the Home screen, go to Menu.
Scroll down to Device Settings and press OK.
Select Remotes & Accessories to view the remote's battery level.
Google and Google Play are trademarks of Google LLC. Google Assistant is not available in certain languages and countries. Third-party monthly subscription is required for some apps. Network apps are subject to change. You must be signed in to your Google account in order to download apps from the app store or use voice commands.
This material includes references to products, services and/or equipment not manufactured by Midco. The respective companies retain trademark and registered trademark ownership for those referenced items.